Written by Jacob Smith, Graduate Assistant of the UGA Graduate School
Interview with Ben Wentworth, PhD student in the Mary Frances Early College of Education
The University of Georgia Graduate School has a vast array of programs for students to choose from. Ben Wentworth, a PhD student in the Mary Frances Early College of Education's College Student Affairs Administration program and Associate Director of Student Integrity at Georgia Gwinnett College, has decided to follow in the footsteps of his grandfather, Theodore K. Miller, one of the founders of the program.
"Wouldn't Grandad be surprised if he knew that all three of his grandchildren had to cite his books for school  papers?"
This is something Ben Wentworth discusses frequently with family, as his grandfather was Theodore K. Miller,  a trailblazer in the field of student affairs and administration. According to ACPA—College Student Educators International, "Miller authored, coauthored, and edited more than 30 refereed journal articles, 29 professional books, 40 invited book chapters and reviews, as well as numerous professional association and local publications and was involved in editorial work for a number of professional publications."
Theodore Miller, or Ted, as Wentworth calls him, worked for the University of Georgia for 30 years. During his time at UGA, Miller held many roles such as associate professor, Coordinator of the Student Personnel,  Director of the Student Development Laboratory, and even Chairman of the UGA Department of Counseling and Human Development Services. After retiring in 1997, Miller remained active and assisted in other areas when he was able. He even kept an office on UGA's campus until 2005.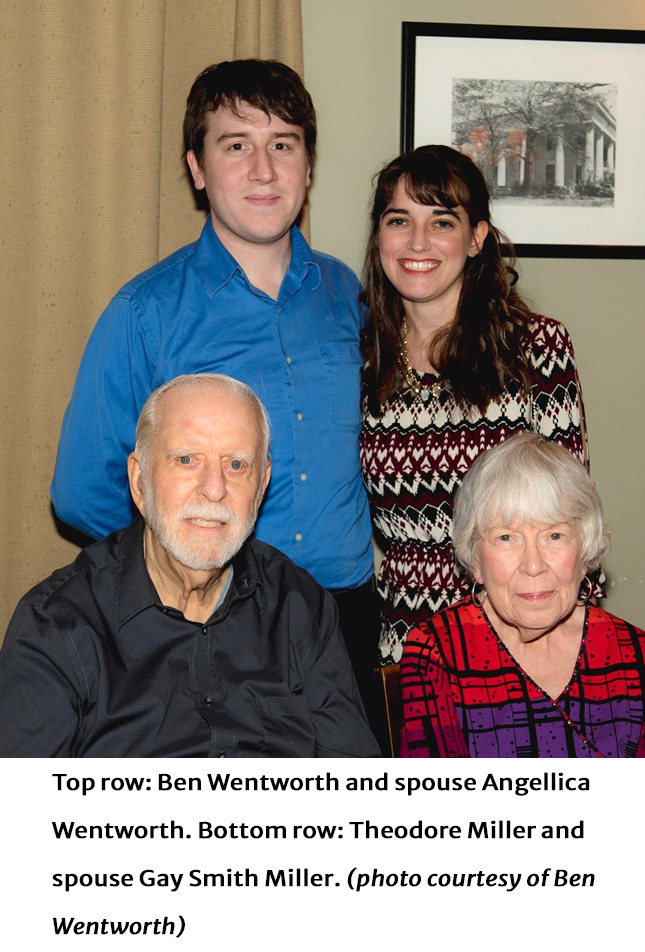 Ben Wentworth grew up hearing his grandfather discuss his work.
When it came time for Wentworth to decide on his own academic path, these discussions led to an interest in pursuing a degree in the same field. Besides keeping it in the blood, Wentworth said, "Another reason I pursued this degree is that at the time I was applying, it was one of the top programs in the country."
"I also pursued higher education in the same field because of the people," he said.  "Dr. Laura Dean is my chair, and she is amazing to work with."
Wentworth also noted the balance of the program which focuses on higher education administration and student care and development. "The program is giving me the tools to work in senior administrative roles where I won't be with students every day, but I'll still make decisions that impact them," Wentworth said.
His research focuses on the phenomenon of conspiracy thinking among college students.
"My research specifically looks at personality traits that predict conspiracy thinking among college students," Wentworth said.
He went on to describe the lack of literature that surrounds this issue. His goal is to understand certain characteristics and external factors that alter how these students internalize conspiracy theories. "I looked at a handful of personality traits: Machiavellianism, the need to be unique, the need to have cognitive closure, and the sense of power," Wentworth said.
In the context of students who display traits of Machiavellianism, which Wentworth described as seeing individuals as a means to an end, he concluded that they typically go down the conspiracy route of seeing others as trying to manipulate them.
Wentworth's research also includes less personal conspiracies such as the flat earth theory. He went on to explain the different levels, beginning with theories that target specific individuals  to larger theories such as the Illuminati conspiracy that encompasses a large number of people. "All of these fit under the broad conspiracy thinking phenomenon,  and that's what drew me in to studying this," Wentworth said.
"If my research helps me help students, then I will be happy."
Wentworth's goal is to work one-on-one with students and to give attention to students who are dealing with this topic.
Wentworth has defended his thesis and will be graduating in May while wearing his regalia in honor of his grandfather.
"It's cool to know that my grandfather was one of the founders of the program I am graduating from," Wentworth said.
Wentworth is excited to graduate and follow in the footsteps of his grandfather, making an impact across generations and communities.