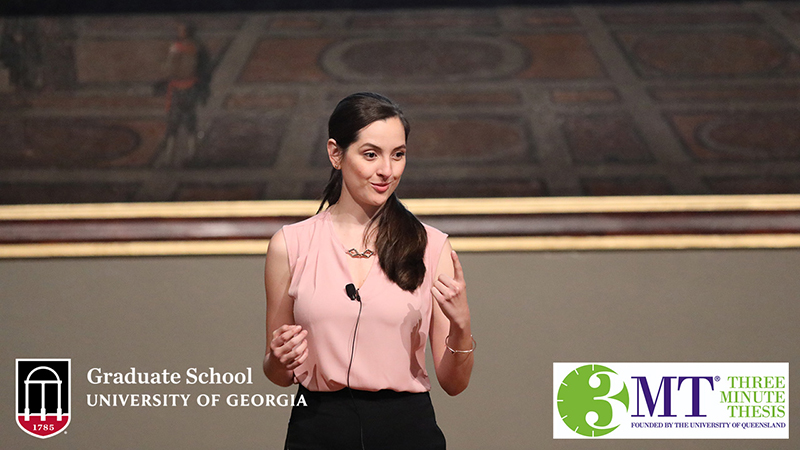 This year's University of Georgia Three Minute Thesis (3MT™) Competition drew dozens of submissions from master's and doctoral students across the university. Several preliminary heats led to the selection of ten finalists who submitted their presentations for a panel of judges. The winner of the Grand Prize was Karen Gonzalez, a doctoral student in the Institute of Bioinformatics, for her presentation titled "Humans vs Viruses."
What is the focus of your research?
My research focuses on designing computational methods to develop better vaccines. I am particularly interested in creating vaccines that protect against different variants of respiratory viruses.
How did preparing for 3MT™ help you in your research/thesis?
The 3MT™ helped me have a deeper understanding of the impact of my research. Having clear the big picture of my research is critical for communicating my results effectively, making collaborations, and getting follow-up projects funded in the future.
What was the competition like for you?
The competition was very challenging. Trying to explain technical concepts in common words was harder than I thought; it kept me thinking for several days.
How has the UGA Graduate School given you the tools to succeed?
The UGA Graduate School is incredibly supportive of its students. They offer numerous funding opportunities for research and professional development. Additionally, the UGA Graduate School did a fantastic job getting me acclimated to the United States. As an international student, it has been crucial for my academic performance to be in an environment of like-minded and welcoming people.
What is next for you?
In a couple of months, I am graduating with my PhD and I would like to continue my career in academia. My final goal is to have my own research lab and contribute to human health welfare.
Three Minute Thesis (3MT™) is an academic competition developed by The University of Queensland (UQ), Australia.