12th Annual UGA Three Minute Thesis (3MT™) competition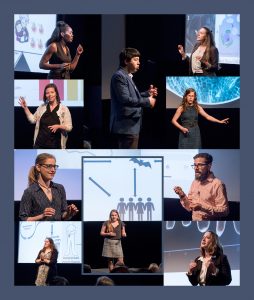 3MT is a professional and highly engaging international research communication competition. Better known by the acronym 3MT, the competition requires contestants to explain their thesis or dissertation topic and its significance in three minutes or less using only a single static presentation slide.
The competition supports their capacity to effectively explain their research in three minutes, in a language appropriate to a non-specialist audience.   This event is free and open to the public.
Participant Registration closes Monday, March 6, 2023, 11:59 p.m.;  Registration form.
Preliminary Rounds: March 14th – March 17th, 2023. The 10 finalists will be notified by March 22, 2023.
Final competition is free and open to the public – April 5th, 2023, at 7:00 pm in the University Chapel (109 Herty Drive).
Three Minute Thesis (3MT™) is an academic competition developed by The University of Queensland (UQ), Australia. 
---
Congratulations to the 2022 UGA 3MT Winners!
First Place: Leah Dutton (UGA Hugh Hodgson School of Music)
Runner Up: Shreena Pradhan (Institute of Plant Breeding, Genetics, & Genomics at University of Georgia)
People's Choice: Eleanor Hair (UGA College of Environment and Design)
Watch the full show here.
About
The exercise develops academic, presentation, and research communication skills and supports the development of students' capacities to effectively explain their research in language appropriate to an intelligent but non-specialist audience.
Master's and doctoral students have three minutes to present a compelling oration on their thesis or dissertation topic and its significance. 3MT™ is not an exercise in trivializing or 'dumbing-down' research but forces students to consolidate their ideas and crystalize their research discoveries.
Eligibility
Currently enrolled master's and doctoral students at the University of Georgia will be eligible to participate in 3MT™. Graduates are not eligible. Students must present on the research that will culminate in either their master's thesis or doctoral dissertation. Previous winners of the 3MT competition are not eligible to participate.
Prizes
Winner: $1,000
Runner-up: $750
People's Choice: $500
Rules
A single static PowerPoint slide is permitted. No slide transitions, animations or 'movement' of any description are allowed. The slide is to be presented from the beginning of the oration.
No additional electronic media (e.g. sound and video files) are permitted.
No additional props (e.g. costumes, musical instruments, laboratory equipment) are permitted.
Presentations are limited to 3 minutes maximum and competitors exceeding 3 minutes are disqualified.
Presentations are to be spoken word (eg. no poems, raps or songs).
Presentations are to commence from the stage.
Presentations are considered to have commenced when a presenter starts their presentation through either movement or speech.
The decision of the judging panel is final.
Judging Criteria
Comprehension & Content
Presentation provided clear background and significance to the research question
Presentation clearly described the research strategy/design and the results/findings of the research
Presentation clearly described the conclusions, outcomes and impact of the research
Engagement & Communication
The oration was delivered clearly, and the language was appropriate for a non-specialist audience
The PowerPoint slide was well-defined and enhanced the presentation
The presenter conveyed enthusiasm for their research and captured and maintained the audience's attention
Interested in learning more about how to make the most of your 3 minutes? Here's a guide that that will help you to prepare and deliver an effective 3MT presentation.