Written by the UGA Graduate School
The Graduate School encourages students to take advantage of seeking and engaging with a mentor while they pursue their graduate studies at the University of Georgia (UGA). The importance of mentorship runs deeper than extending one's network– it can be life-changing. From academic guidance to career exploration, mentors connect with their mentees to provide support, guidance, advice, and help in whatever capacity that they can. At UGA you will find academic and professional development mentor opportunities. Learn more.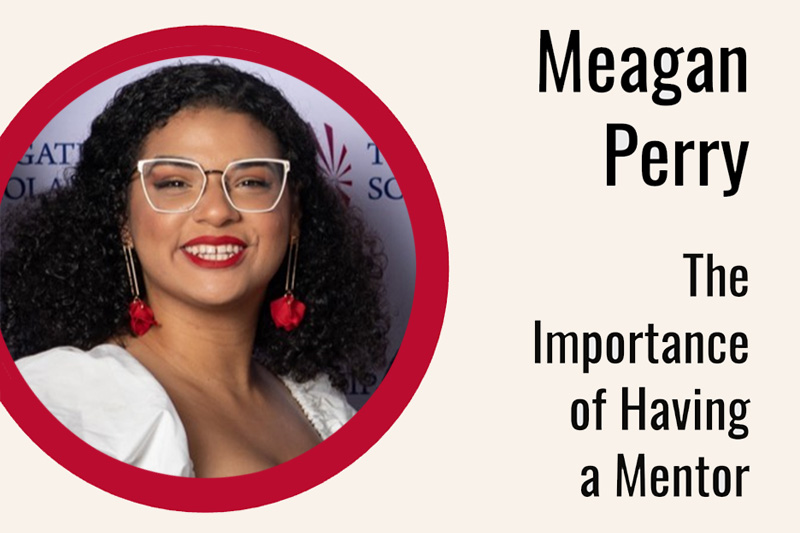 Meagan Perry is a current graduate student at the University of Georgia, Grady College of Journalism and Mass Communication. Perry has worked with a professional mentor for the past five months. Her experiences with mentors at UGA and beyond exemplify the power of these relationships to prepare graduate students for successful careers.
Perry said, "My mentor has been great at opening my mind to what's possible for me. As students, we have ideas about things but not as much life and professional experience. She has opened my mind to what I can do throughout my career."
Perry has had several mentors throughout her academic career, but she found her current mentor through the recommendation of Samantha Meyer, director of experiential programs at the Grady College of Journalism and Mass Communication.
Through her mentor relationship, Perry was invited to New York City. "My mentor inviting me to NYC, with all of these important people, showed that she really valued me and believed in me as a young professional."
On earning her masters from UGA, Perry said, "I am learning from some of the best in the industry who care about the future of the industry, and therefore care about us as students."
Perry discussed a class taught by Dr. Kyser Lough that was fundamental to her career because of the passion that he had for teaching.
"I feel like that's what makes a fantastic professor; not only did he love what he was teaching, but he was dedicated and invested in helping us find what we love."
Perry hopes other students find a mentor no matter what. "If one avenue doesn't work for you, there are others out there that you can pursue. She explained that mentors do not fit a predesigned mold. "Go to school events and see guest speakers. There are opportunities for connections everywhere, so keep your mind open."
The UGA Mentor Program
In addition to academic mentorship within graduate programs, UGA has broad mentoring resources to support professional development. As students begin career exploration, they may engage with the UGA Mentor Program. UGA has a long and deep line of loyal alumni that are eager to support current students to become successful in whatever they pursue. The UGA Mentor Program is designed to connect students with alumni to introduce career and higher education opportunities and create meaningful relationships.
Sign up for the UGA Mentor Program. The program is also looking for additional alumni mentors. Read more about the commitment and registration to becoming an alumni mentor.