Written by Jacob Smith, Graduate Assistant of the UGA Graduate School
Interview with Jana Woodiwiss, doctoral candidate in the UGA School of Social Work and 2022 recipient of the University Women's Club – Dianne C. Davison Graduate Fellowship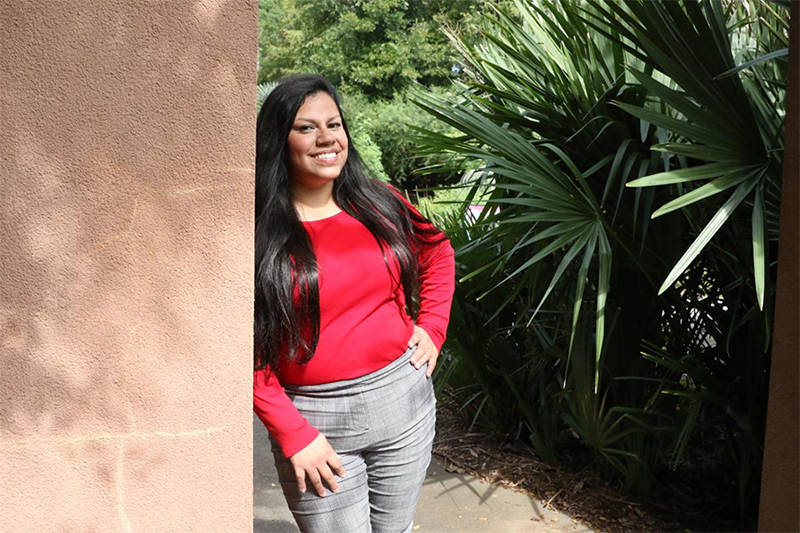 At the University of Georgia, community and collaboration is at the forefront of everything. The Graduate School provides the means necessary for students to further their research and make differences in the communities that impact them.
Upon receiving the University Women's Club – Dianne C. Davison Graduate Fellowship, Jana Woodiwiss wanted to make sure that she could fulfill the mission of the fellowship which aligned with UGA's mission. That is, partaking in community engagement and collaboration in her work. "I wanted to speak to that in terms of the work that I do," said Woodiwiss.
The work that Woodiwiss is currently doing has implications right here, right now.
Current Work
Woodiwiss is currently working on several projects. She performs community-based participatory research, with specificity in Latin American immigrant communities. One of her projects is with El Refugio in South Georgia. This organization assists those in need who have had family members deported or detained at the Stewart Detention Center.
The Stewart Detention Center is located in Lumpkin, Georgia. According to TracImmigatrion data, "Stewart Detention Center held the largest number of ICE detainees so far in FY 2022, averaging 1,093 per day (as of August 2022)." Georgia also ranks as number four based on volume of detainees by state, according to the site.
Woodiwiss' project is ongoing, as she is still trying to gather participants and explain the process with the hopes of having a larger data set. She has been interviewing parent-child dyads, which is the relationship between one parent and one child.
She is doing this to observe the experiences that occur during the process of separation and what factors affect the state of those involved. Factors include time, location, what barriers they had to overcome, support they needed and received, and more. Woodiwiss says, "We want to identify what community support we need to implement for those individuals."
What is the end goal? "To paint a clearer picture," Woodiwiss says. The research that is being done will hopefully provide a better view of the dynamics involved in separation cases. This can assist social workers like Woodiwiss in discovering new systems to enact that can provide more support for the communities involved.
Additional Work
Woodiwiss' background in the social realm has had many different facets. She has facilitated international and domestic adoptions, licensed homes for therapeutic foster care, worked with children coming out of sexual exploitation, medical social work, and more.
She says, "That mix really taught me the importance of the family and how it's important to gain those different perspectives of a parent and a child and the family as a unit so we're being inclusive."
Her previous study, Mental Health Outcomes of Latin American Children by Parent Nativity Status, was a secondary data analysis that explored anxiety and depression symptomatology among school-aged Latin American children.
She is looking at how anxiety and depression symptomatology present among varying parent nativity status. There is also a group with no parents identified, which Woodiwiss says may be a part of the influx of unaccompanied minors. This research is breaking ground by taking a deep dive into the mental health of children involved in separation cases and relationship forming.
She says, "The paper hasn't been published yet, but it was accepted for the Council of Social Work Education National conference in Anaheim, where I will be presenting my research in November."
Who is Jana Woodiwiss?
Woodiwiss was adopted at an early age from El Salvador during their Civil War and was raised in Georgia with her parents.
She had originally planned to open her own adoption agency but realized that her efforts might provide better support in dealing with direct clinical work and families.
"My heart for immigration really comes from my past and personal experience," Woodiwiss says.
Woodiwiss will also be attending The Latinx Forum on Democracy, Migration, Health, & Wellbeing at UC Berkeley this month. She states "the conference was suggested by my long-time mentor and chair of my dissertation committee, Dr. Harold Briggs. This conference was created to elevate Latin American scholarship and advance social justice through research, policy, and practice." She is also meeting with Dr. Eric Stover, who is a Professor of Law and Director of the Human Rights Center that created the DNA reunification Project, which helped her locate her biological family in El Salvador, and providing an interview for an upcoming newsletter for Berkeley's Human Rights Center.
Woodiwiss is currently in her third year Ph.D. program at the UGA School of Social Work, provides research assistance in the Public Service and Outreach division of the Carl Vinson Institute of Government, and serves as a consultant for the Child Welfare League of America. She hopes that her work will continue to make a difference in Georgia, and beyond.