New Student Orientation
The New Student Orientation is delivered through an online platform in which Fall matriculants are automatically enrolled beginning  August 1.
New Student Orientation is LIVE! We strongly encourage everyone to complete the online orientation within the first month of the semester. *The first 500 students to complete the online orientation will receive a Graduate School water bottle.
The online orientation is available throughout Fall semester and includes the Graduate School and campus partners, such as:
Equal Opportunity Office
Academic Honesty
Resources for Research & Learning
Student Health Insurance
Student Organizations
GradFIRST
Graduate School Admissions and Enrolled Student Services
Student Care & Outreach
Student Accounts & Financial Aid
Health & Wellness
Auxiliary Services (OneCard Office, UGA ID, etc.)
Transportation & Parking Services
Campus Safety
Student Services & Support (Career Center, Disability Resource Center)
Immigration Services
Recreational Activities (RecSports, etc.)
Campus Traditions (The Arch, Chapel Bell, Dawg Walk, etc.)
---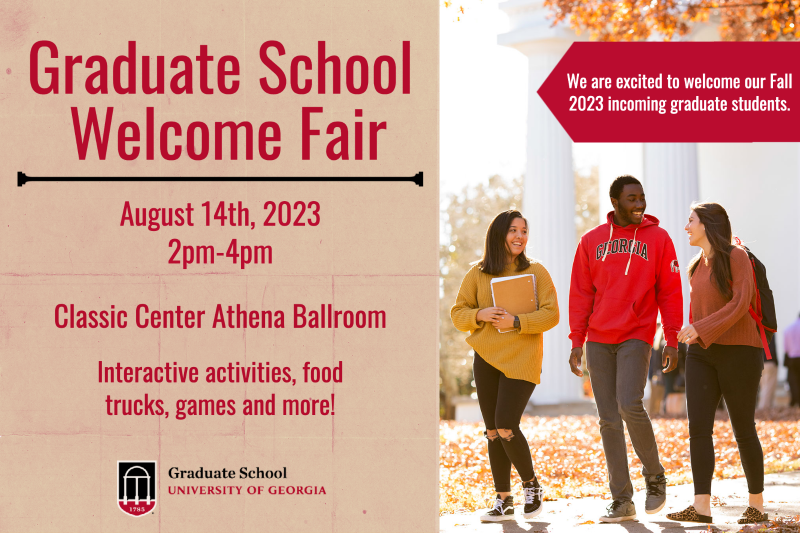 The Graduate School Welcome Fair for incoming graduate students will be held on August 14, 2023 from 2:00 p.m. – 4:00 p.m. in the Athena Ballroom of The Classic Center in downtown Athens.
RSVP to reserve your spot (and food) at the Graduate School Welcome Fair.
Deadline to RSVP is Friday, August 11.
RSVP for the Graduate School Welcome Fair
This year's Welcome Fair will be interactive, informative, and engaging for incoming graduate students. There will be food trucks, live music, interactive booths, prize giveaways, and will feature representatives from a number of campus and community services. It is an opportunity for incoming students to connect with important resources for their graduate experience.